Operable Walls
Portable Partitions's range of operable walls is recognised for their unmatched quality, durability, and flexibility.  Our hand-built operable walls offer you an affordable and unique alternative to divide open spaces. The operable walls are designed in a range of dimensions and fabric finishes that suit the functional criteria of any project. Furthermore, these are completely customisable and do a brilliant job at dividing your large, open spaces while keeping them modern and aesthetic.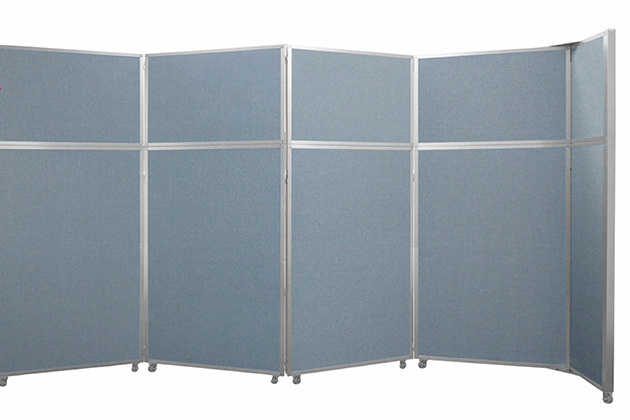 Benefits Of Operable Walls
Operable walls provide more coverage than other types of partitions and require no ceiling hack. They also don't hamper the HVAC flow and therefore, eliminate the need to get building code permits for installations. You can now change the size of any space in a matter of minutes. The fiberglass core and 5cm thick fabric panels of our operable walls ensure proper acoustics within your space. You can control the sound flow and capitalise on the most ideal use of floor space in large, open areas.
Types Of Operable Walls & Dimensions
The "Operable Wall Folding Room Divider" is best suited for spaces requiring up to 3.75m height coverage. You can have width coverage up to 5.8m per unit, and divide spaces up to 11.6m by mounting two units on two separate opposing walls. Our durable rolling casters provide 6cm of ground clearance. The clear anodised aluminium frames with low profile casters provide maximum stability with a slick finish, and the sliding hinges make opening and closing smooth as silk. We offer customisation from over 7 types of sound-dampening, pushpin accepting fabrics used in these operable walls.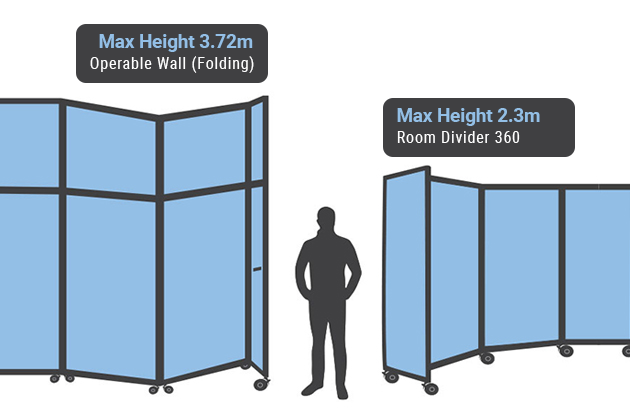 Estimating The Budget For Operable Walls
Estimating how much it costs starts with understanding how much space you would like to divide. We typically work with 3 coverage heights – 2.56, 3.03m, and 3.73m. And varying folding panel widths up to 5.8m. If you require 3.03m high and 5.85m wide coverage, then the cost of the Operable Sliding Divider comes around $4870. For a better understanding, we recommend getting directly in touch with our team, which is equipped to help you find the right, customised operable wall solution for your space.
Making The Right Choice
Selecting the right operable wall is key to achieving the most efficient and flexible use of your interior space, whether it is an office, conference room or a classroom. Portable Partitions's operable walls and partitions have been designed to cater to any kind of partition requirements you have. Due to our expertise in partition solutions, we can help you select the most compatible and best product that satisfies your design and sound-dampening needs.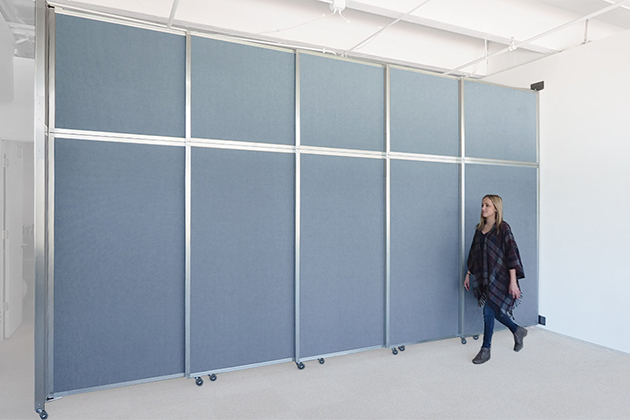 RELATED CASE STUDIES