Office Partitions, Dividers & Screens
Divide office space however you want, anytime.
Reduce noise in open office areas.
Create extra office space for a break, pantry or waiting areas.
Create privacy in an open office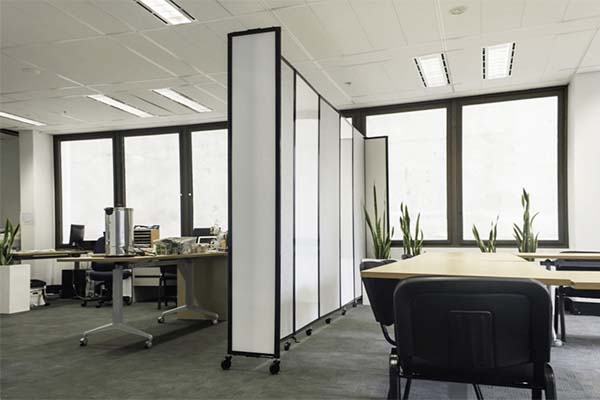 Trusted by Industry Leaders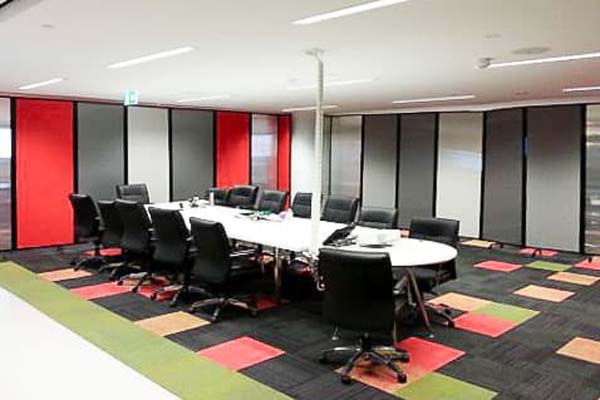 'I can't believe we suddenly have a huge conference room in our office. It's awesome!'
Manuel Ortega, Senior Facilities Manager for Jones Lang La Salle (JLL) heard this comment directly from his client after they had worked to reconfigure a large room they had on the lower ground floor. In Manuel's own words:

'By utilising portable room dividers, this room has now been turned into a more flexible work/game space'
Our Most Popular Office Partition Categories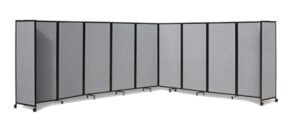 Portable or wall mountable
Up to 2.3m high and 7.6m long
Configurable in any shape or straight line
Pinnable sound dampening or wipeable surface
From $1195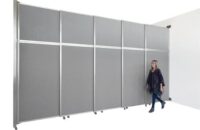 Wall mounted
Up to 3.7m high and 5.9m long
Configurable in any shape or straight line
Pinnable sound dampening fabric surface
From $2530
Panel post system to create any cubicle size
Custom height, 1.2m or 1.8m high panels
Sound dampening fabric with optional windows
Quote for price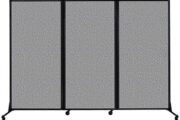 Portable (on wheels) or on feet
Up to 2m high and 2.5m long
Configurable in any shape or straight line
Pinnable sound dampening fabric surface
From $890
Popular Office Partition Solutions
View our full range of office partitions including: freestanding office partitions, office partition walls, office dividers, office screens, office cubicles and desk dividers. All manufactured by us in Australia with 3 year product guarantee.
Freestanding office partitions
Looking to quickly change the layout of your office whenever you want?

Freestanding office partitions are the fastest, most flexible and cost effective way to divide or create extra office space in a matter of seconds.

For full flexibility check out our 360 Portable Room Divider, a mobile office partition that can be opened, closed or reconfigured in any shape thanks to its fully articulating hinges.

If you only need a moveable office wall that opens in a straight line check out our StraightWall Portable Wall for more targeted applications.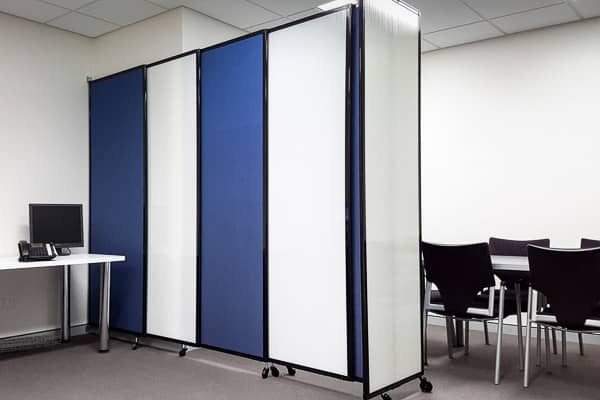 Internal office partition walls
Need a wall mounted internal office partition?

Unlike a studded wall or fitted glass partitions, these office dividers on wheels can be setup in your office in minutes and a fraction of the cost.

If space is tight and you only have room to open an interior office partition in a straight line check out our sliding wall mounted room divider to open up or close a meeting or conference room many times a day.

When further configuration versatility is required the 360 Folding Room Divider wall mounted is perfect to create L – shapes or other shapes than a straight line are needed.
High operable office partitions walls
Do you need to divide office space from floor to ceiling fast without having to get a special permit from your landlord?

Our high operable office partitions walls go up to 5 cms from the floor and ceiling to help you achieve the ultimate visual barrier and good sound dampening.

Our Operable Wall (sliding) is a high office partition wall that slides open in a straight line meanwhile our Operable Wall (Folding) can fold open into any shape (including a straight line) for situations when versatility in setup configurations is required.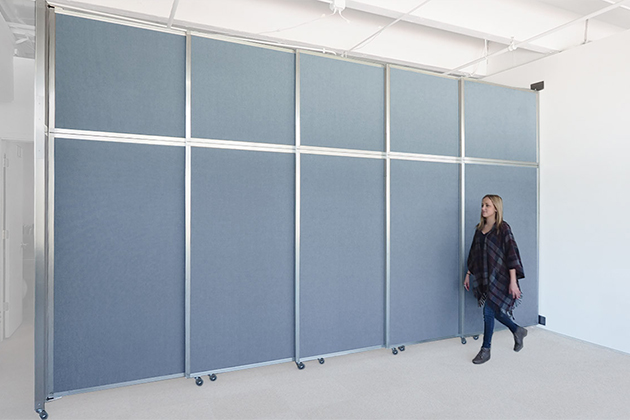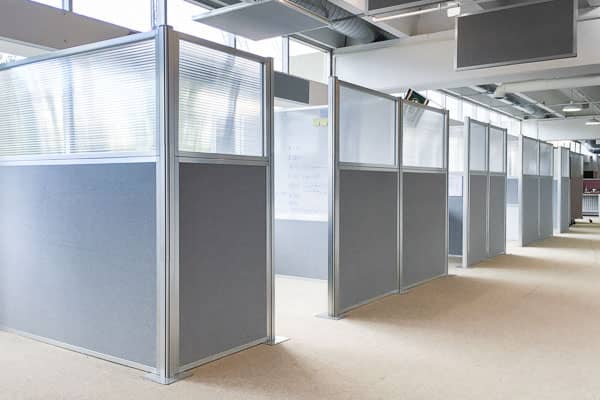 DIY office cubicles
Need to create office cubicles quickly?

Our modular office cubicles can help you setup a whole new office layout in minutes with the flexibility to manage office layout without further investment.

Whether you need to create large 4×4 office cubicles or small office cubicles our DIY office cubicles let you create any custom configuration you may need with a simple panel post system at fraction of the cost of traditional fit out solutions.

Specially useful for the current situation where your workforce size changes according to local restrictions, our modular office cubicles can be shortened or lengthened at any time without the need of a builder or office downtime.
Privacy screens for office cubicles
Looking for increased workstation privacy?

Our privacy screens for office cubicles are a really quick and easy way to add extra privacy to those desks that are in the open and exposed to the rest of the office.

Specially useful for temporary desks, our privacy workstation screens help increase productivity and comfort for employees by creating private office cubicles.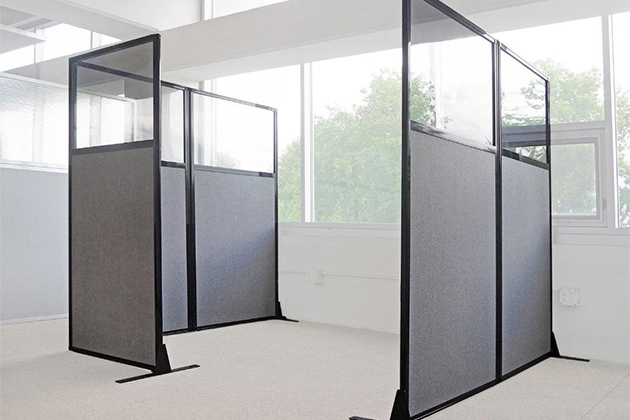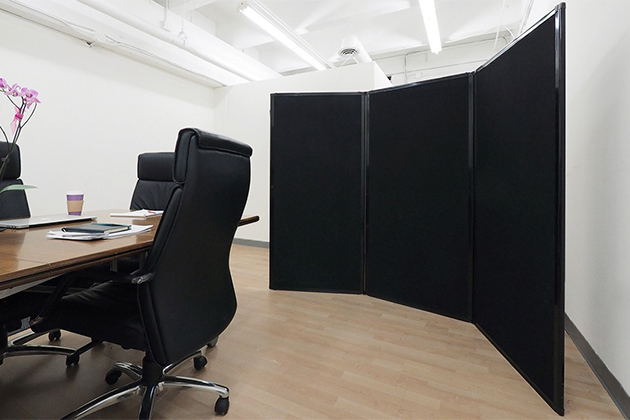 Freestanding office screens
Our freestanding office screens are ideal to create a visual barrier from the rest of the office at a very affordable price.

Incredibly lightweight these office screens also collapse into a very small size for easy storage, making them an incredible resource for any office.

Available with wheels, with feet or without feet our freestanding office screens are the most economical way to create instant privacy in an office.
Office desk dividers
Need to divide two workstations?

Our modular desk dividers are the most convenient way to create privacy and separation between two neighbouring workstations.

Also known as office desk partitions or desk partition dividers these simple dividers are the easiest way to block the view between to facing employees that share a common workstation.
Reception desk sneeze screens
Sneeze screens are now an essential feature every reception desk needs.

Instead of using fitted reception desk glass partitions you con opt for a clamp on desk partition that provides the protection and comfort needed without the costly installation and permit requirements a built in solution would impose.

Easy to setup in different configurations our office sneeze screens firmly clamp on to desks without damaging the existing furniture and can be taken down at any point of needed.
Office partitions manufactured in Australia
Manufactured locally in our Brookvale factory in Sydney's Northern Beaches, our office partitions are sold and shipped directly to our clients Australia wide including next day dispatch and daily deliveries to Sydney, Melbourne, Perth, Brisbane, Adelaide and New Zealand.

As one of the few office partition suppliers and manufacturers in Australia we are committed to provide an alternative to office space management that is fast and affordable when compared to traditional fit out companies and builders.

When you call you can rest assured that our Aussie and Kiwi customer service team will help you choose the right office partitions for your needs as well as process and oversee production of all orders, from manufacturing to delivery at your front door.
Need help choosing office partitions?
If you need guidance, help choosing or customising office partitions for your needs, give us a call or get in touch and our friendly customer service team will help
What are office partitions
Office partitions are non structural elements that help redesign office layouts and divide office space quickly and affordably. Also known as office dividers, office screens, office cubicles and office partition walls, office partitions take a wide variety of shapes and forms and are used to create privacy, reduce noise, create extra office space, increase office productivity and employee wellbeing
Why use office partitions in an office space
Increase office productivity
Open office distractions are one of the key enemies of productivity and wellbeing in any office.

Office partitions help you manage your office layout to reduce visual distractions and noise that commonly occurs in open plan offices.

Whether its using office dividers, office screens, office cubicles, freestanding office partitions or office partition walls you can use any type of office partition to increase office productivity by providing an area for focused work that is both private and comfortable for your employees.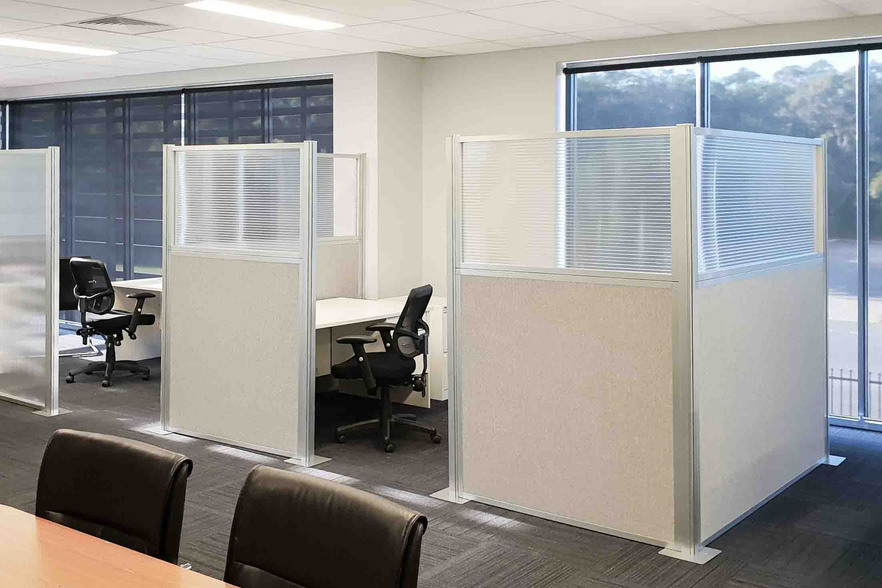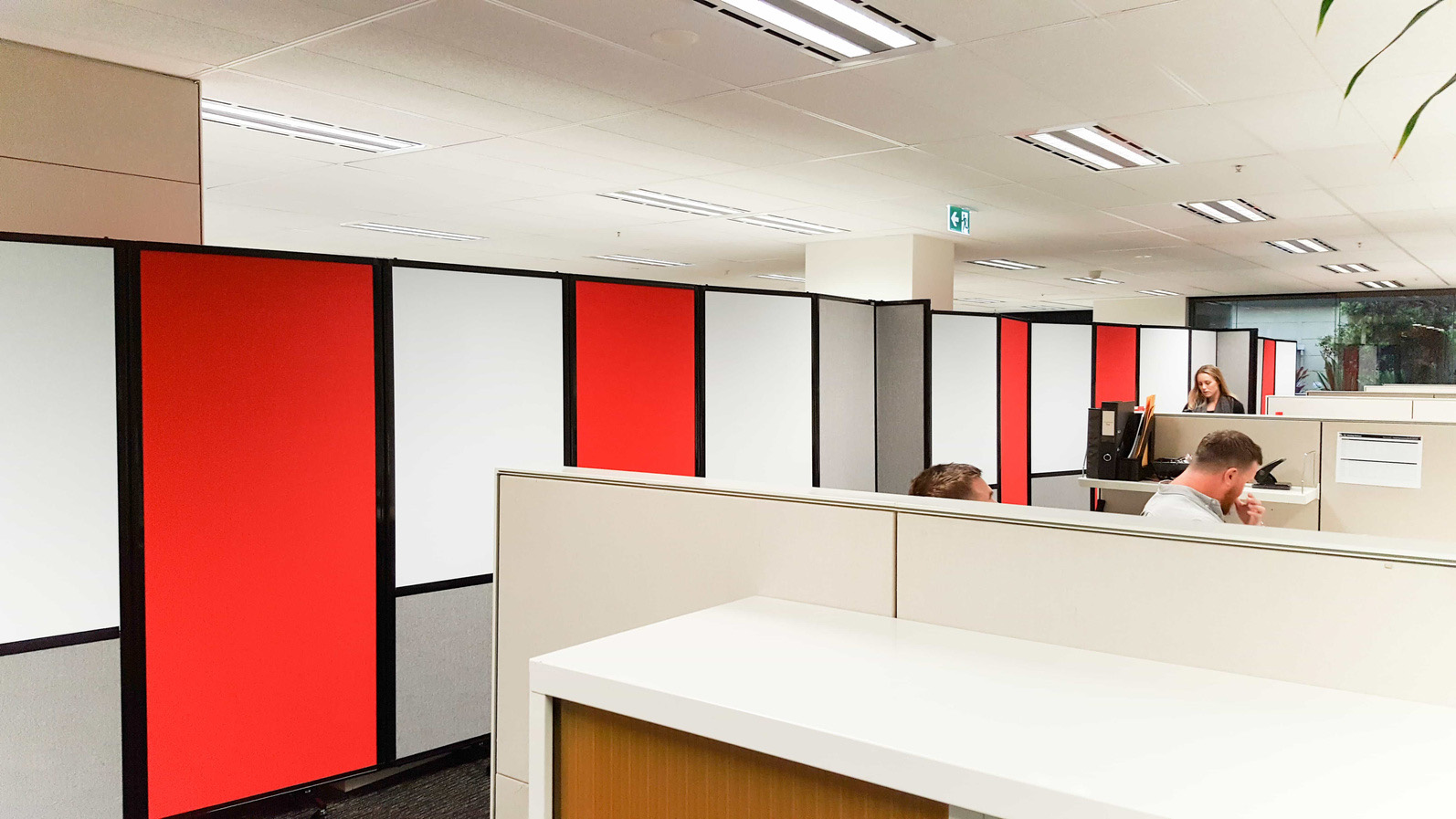 Reduce noise in open plan office
When noise gets too loud the workplace can become an unbearable place to work in and its not a secret that reducing noise in open offices is a key part of creating a more enjoyable and productive workplace.

If you're asking yourself how to reduce noise in the open plan office, consider introducing acoustic office partitions that can break up noise by reducing reverb and absorbing the sound waves that impact them.

Acoustic dividers for offices can effectively help reduce noise in open offices, specially if they are big and leave small gaps between the floor and ceiling.
Divide office space
Whether you need to separate office space for a specific team or create a break out area for the whole office, separating office space is a constant need in any workplace.

A popular example we see all the time is the need to section off a meeting room from the rest of the office for privacy and there is no easier and cost effective way than using office partitions.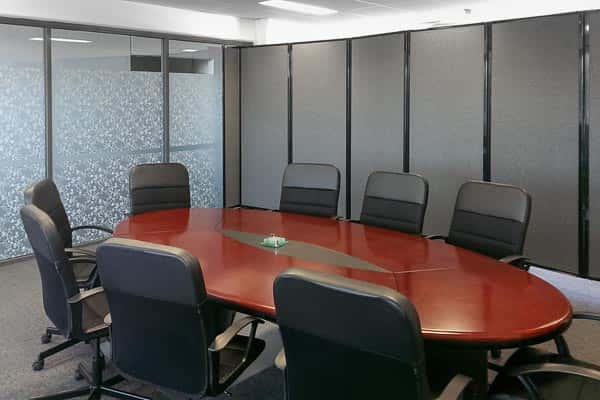 Create extra office space
With office real estate at a premium, making the most out of your existing office space or even creating extra office space is essential to any business.

Our office partitions have been used to create:
private offices and cubicles
meeting and conference rooms
recreation areas in offices
a pantry area in office
office break and coffee areas
office waiting areas for guests and clients
office storage solutions for small spaces
Temporary office wall solutions
In uncertain and rapidly evolving times, fixed office partitions and inflexible long term layout solutions are hard to justify both from a business and a utility point of view

An alternative to effectively manage office space is to use office partitions as temporary office wall solutions.

By using removable wall partitions or mobile office partitions you can enjoy the benefits of fixed office partitions without the cost of committing to a costly long term solution.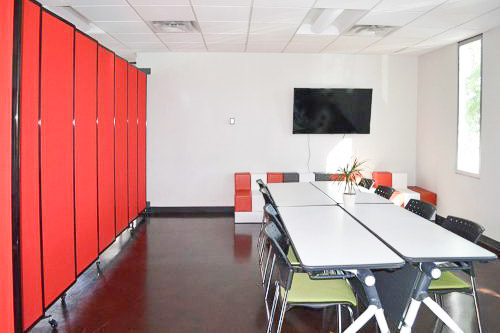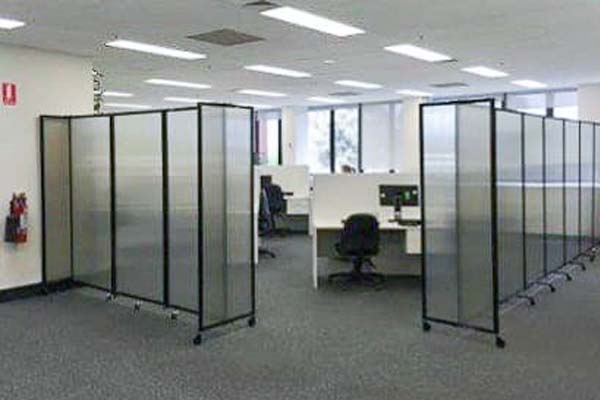 Give Privacy with office privacy dividers
Privacy in the workplace is essential for employees peace of mind but also for their general wellbeing and productivity.

Office partitions can be easily used as office privacy dividers to help group teams or to create areas for focused work.

Whether its helping employees handle sensitive information or just by giving them a comfortable private place to work in privacy partitions are a must in any workplace.
Help employees feel safe with desktop sneeze screens
This short 2 minute testimonial video shows insights from a CEO, HR Manager, Facility Manager and CRO at Flare HR, talking about how sneeze screens have helped their business ensure social distancing is complied and make their people stay and feel safe in the workplace.
"We gave our people the confidence that the workplace really was home"
Daniel Cohen – Managing Director of Flare HR
Four main ways to use office partitions to divide office space
There are four main ways to divide an office:
Studded Wall Systems and Fixed Office Partitions
Operable Wall Systems (like Hufcor)
Wall mounted office partitions
Freestanding movable office partitions
Finding the right type of office partition that matches your organisations space needs and budget can be a challenge.

If you need help choosing how to divide your office space, get in touch or check our recommendations on how to choose the right office partitions.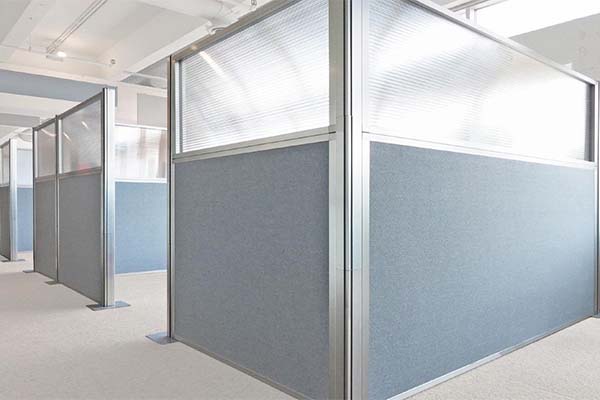 Role of office partitions in workplace management
Open plan offices are often implemented with the belief that they increase collaboration, but how does forcing workers to do everything out in the open affect employee health and productivity?

With a boom of work from home and constant workforce changes, how can you manage office layouts that could be rendered obsolete at any moment?

We've created a downloadable white-paper that addresses the role office partitions have in navigating the challenges of workspace management.
In this document you will learn:
How to balance collaboration and focus.
How to factor in the long term costs of fixed and mobile office partition solutions.
The key things your business needs to consider when selecting office partitions, fixed walls and workstations.
The average costs and benefits of the four main kinds of office partition solutions.
Download our Free Whitepaper Now!
The right office partition solutions can help strike a balance between collaboration and concentration by sectioning off areas for special uses and reducing annoying and distracting office sounds as well as striking a balance between temporary and fixed office layout solutions.
Office workplace management Insights
Need help choosing office partitions?
If you need guidance, help choosing or customising office partitions for your needs, give us a call or get in touch and our friendly customer service team will help