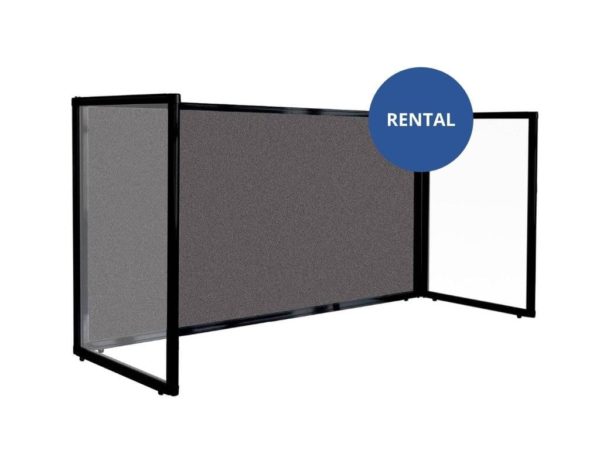 Rent Desktop Sneeze Guard Acoustic Fabric – Freestanding with 2 perspex Returns for Workstation Pods
$100.00 / month
---
Overview
Sound dampening sneeze guard for desks to help ensure social distancing and reduce noise for enhanced video conferencing sound quality
Clamps securely to standard desk sizes, no builder or drilling required.
3 panels for simultaneous side and front protection as well as noise reduction.
360º rotating hinges to allow multiple configurations for any setup.
Strong durable build with aluminum extrusion frames
Multiple fabric colours available to match office furniture and design.
Rental Terms and Conditions Overview
Monthly payments (usually tax deductible)
Cancel at anytime agreement with no minimum rental period
After 6 months, option to purchase or continue rent at heavily discounted rate
2 way shipping cost paid upfront with 1 way shipping credited back in case of triggering option to purchase after 6 months.
Description
Created to ensure social distancing in the workplace and help reduce reverberation and excessive noise in important video calls our sound dampening desktop sneeze guards are easy to set up in any desk when quieter environments are required. Their design allows them to be set up in multiple configurations to fit any workstation and can be easily taken off and stored if needed, even just before or after a video call is about to start.
---

Stay Protected
Ensure the safety of your staff through reduced germ transmission with these easy-to-clean and flexible desktop sneeze guards.

Save Time & Money
Avoid expensive, lengthy and disruptive permanent building works by considering cheaper temporary or semi-permanent solutions. Products to suit every budget, without the hassle.

Fit Any Countertop or Room
We designed our Protection Screens and Room Dividers in a fully customisable way so there is always a way to make it work for your needs.

Easy Set-Up
Most of our products ship semi assembled or assembled. Simply unbox and use easy setup guide to place into position. No need for professional building services or installers.

Australian Made
Manufactured, assembled and shipped directly from our Sydney factory ensuring the highest quality.

Next Day Shipping
All products are in stock and available to order directly through the website or via phone. The majority can be dispatched next day for delivery across Australia.
Additional information
| | |
| --- | --- |
| Height | 85 |
| Length | 150cm, 160 cm, 180cm |
| Depth | 80 cm |
| Colour | Beige, Black, Charcoal, Cloud grey, Navy Blue, Red |