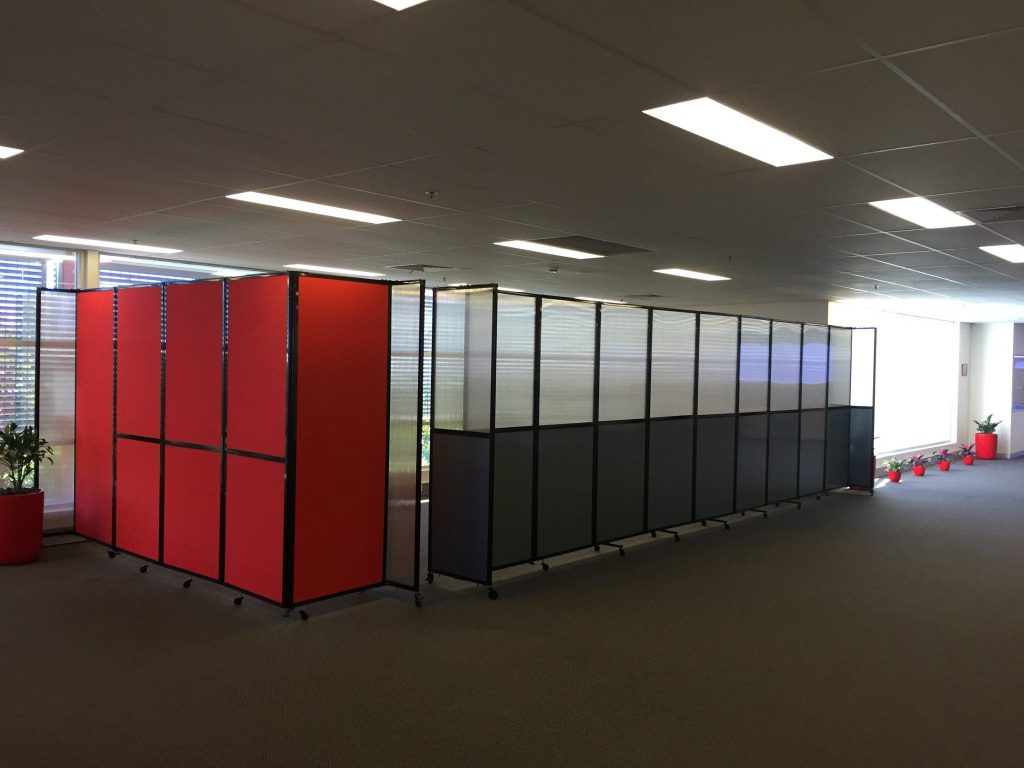 Quick and Cost Effective New Rooms Using Flexible Partitions
Constructing an extra room from start to finish may seem a bit more effort than you would like to commit to. You tend to apprehend the chunk of time and the huge cost that comes along with it – finding it a challenge on how to create this "room within a room" without the need for expensive and obstructive renovations. Office partitions comes to mind but you want them to be more functional and portable i.e. serves as a boardroom, training room, and/or reception area. Is it possible?
How about the forms, colours, designs, and the price tags of these office partitions? Then you try to recognise and balance the cost, functionality, flexibility, aesthetics, and even acoustics of these office partitions to ensure a conducive working environment. And more importantly, how can you wisely create a room that may be moved with little or no notice?
Portable Partitions Australia was recently approached by Plasson Australia to provide office partitions that could make a large, open plan office area into a boardroom, which can also serve as a reception area. The boardroom required a total of 32 square meters of space, big enough to accommodate a boardroom table with chairs, and whiteboard panels for meetings and collaboration.
The client also needed office partitions that allowed natural light into the boardroom, and that also had the flexibility to reshape, relocate, or completely collapse without the need for tools or labor.
Below is an image of the open space prior to the delivery of the customised office partitions by Portable Partitions Australia.
Quick resolutions were made as soon as Portable Partitions Australia had the dimensions needed for the office partitions:
1) Press and extrude the panels to order (24hrs)
2) Add the magnetic white board panels (24hrs)
3) Box and ship from PPA Sydney factory to the client's Brisbane Office
The total turnaround time from the confirmation of colour and size to the delivery of the office partitions was just 4 days!!! The total cost of the new boardroom with PPA office partitions was under $5,000 delivered!
Below is an image of the new boardroom (8m x 4m) with whiteboard functionality. Notice how the red office partitions matches with the red plant boxes spread out in the bigger room.
And with the new boardroom table and chairs, Plasson Australia's partitioned office boardroom is now complete. That fast and easy!
The office partitions used for this project is the 360 Mobile room divider. The red panel is the 360 Mobile room divider (Fabric) that's made of pinnable material, and where the whiteboard panels are attached. The 9-panel divider is the 360 Mobile room divider in (Polycarbonate) with a grey bottom and a clear top for some level of privacy. The height is 2.3m for both units.
If you find the process of selecting the "right" office partitions for your business quite confusing and time-consuming, check out our Selection and Pricing Guide which we have recently put together to help buyers like you through the selection process. Download this guide below for FREE: http://www.portablepartitions.com.au/the-hidden-cost-of-an-open-plan-office-and-how-to-fix-it-free-whitepaper/
Call us anytime for a chat about your office partitions requirements. We are always here to help.