Rental Protection Screens & Dividers
Cancel at anytime
No minimum rental period
Predictable, low cost, tax deductible monthly payments
After 6 months choose between a heavily discounted rental fee or a convenient purchase option
To help you allocate your capital where most needed and at the same time comply with social distancing measures in the workplace, we have developed a rental model with convenient purchase options for our most popular sneeze guard and dividers.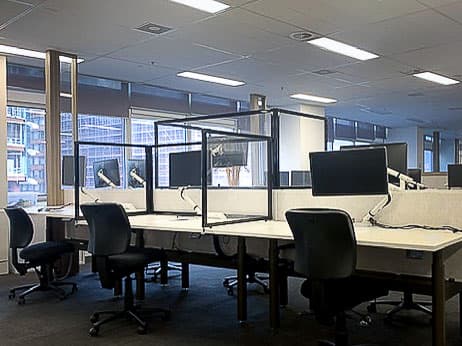 "We gave our people the confidence that the workplace really was home"
Daniel Cohen – Managing Director of Flare HR
Watch a short 2 minute video with insights from a CEO, HR Manager, Facility Manager and CRO with how screens help their business ensure social distancing is complied and make their people stay and feel safe.
"Having everyone collaborating and working in one pod wouldn't have been possible before this solution"

Cam Kahler – Chief Revenue Officer at Flare HR
Risk Free flexibility for uncertain times
With workplaces and office team sizes changing drastically from one day to another your business may prefer saving initial costs and having the flexibility of renting and cancelling at anytime instead of owning office furniture assets that may be a disadvantage if relocating or redesigning the workplace layout in the near future.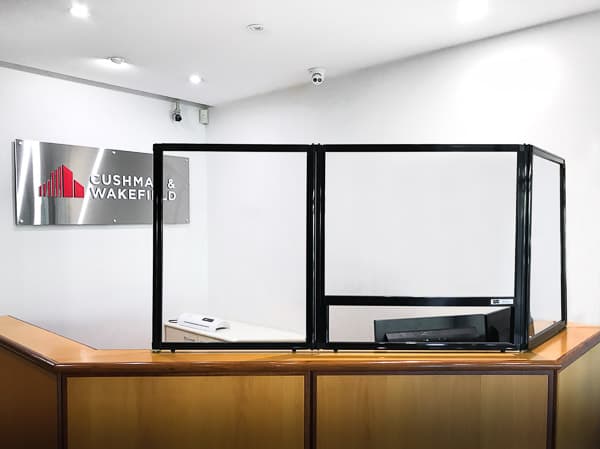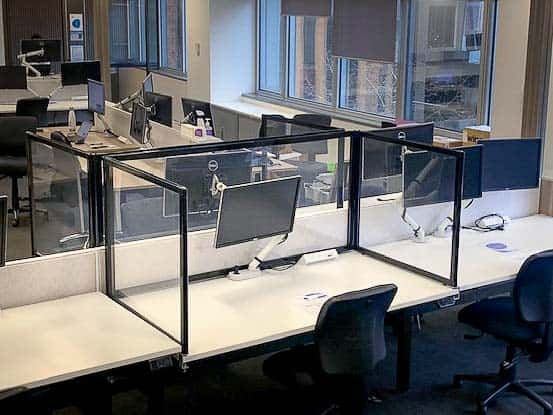 Predictable, low cost, tax deductible monthly payments
Most rental payments on sneeze guards or other business exclusive assets are 100% tax deductible. Affordable monthly payments help you save your cash and existing credit lines for priority or sudden expenses.
Take care about your most valuable asset – your people
Sneeze guards help people avoid the droplets that will most likely transmit the virus but they are also a very visual sign from the company that we need to change our behaviour and that you are taking measures to help them do that and take care of them. They reinforce social distancing, even when people forget about it as they get used to where they are, and they can't be avoided by those who are straight forward unwilling to behave differently. As an added benefit they may be also used to reduce the reliance on masks to increase comfort if ventilation is appropriate and health authorities allow it.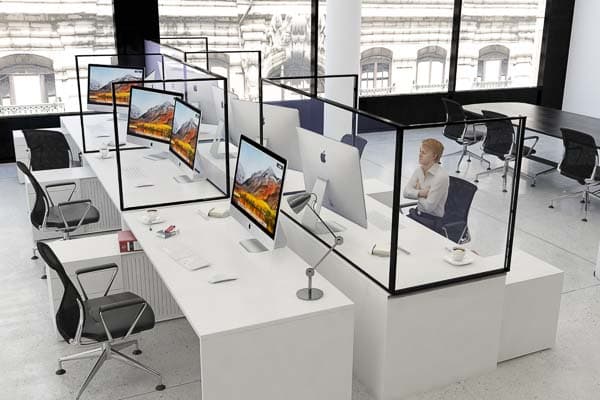 "It isn't just enough to have safety measures, the employees have to feel safe"
Gartner – Return to workplace guide for HR leaders
Related Case Studies
Made in Australia and dispatched from Sydney the next day
Manufactured in our Sydney facilities we work hard to keep our full range of products in stock so when you make an order they are scheduled for next day dispatch which helps you get your solution in your hands as soon as possible.
Need help choosing office partitions?
If you need guidance, help choosing or customising office partitions for your needs, give us a call or get in touch and our friendly customer service team will help